Types of Rice
Rice is a staple in any kitchen, and with so many different types, it lends itself to a limitless number of recipes. Before you add the same type of rice to every recipe you prepare, however, think twice. Substituting one type of rice for another can really alter the result of a recipe. Each type of rice has its own taste, texture, and unique properties that work well with different cooking applications. So how do you know which one is the best type of rice to use? This guide examines factors that differentiate types of rice, from nutty basmati to fragrant jasmine and more!
Glossary
The following anatomy terms may be used throughout this guide when discussing the differences in types of rice.
Hull – Each grain of rice is enclosed in a tough outer hull, or husk, that needs to be removed before it can be consumed. This layer is removed in all rice types.
Bran – Under the hull, the bran layer is not removed in all rice types. This nutritious whole grain section is usually tan-colored, but it may be reddish or black depending on the pigmentation in the bran layers. The bran layer may be consumed, but it is often removed when further processing rice.
White Rice – Once the bran and germ layers are removed, white rice remains. Known as the endosperm, this is the part of the rice that is most commonly consumed.
Germ – Found under the hull, the germ, or rice kernel, is nutrient-dense. Full of B vitamins, minerals, and proteins, it helps give rice its color and added nutritional benefits.
Types of Rice
Length and Shape
Rice is often characterized as one of three varieties – long grain, medium grain, or short grain rice. These varieties refer to the length and shape of the grain. Simply speaking, long grain rice will have a longer cylindrical shape, whereas short grain rice will be shorter and wider.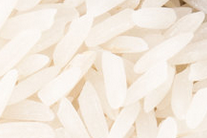 Long Grain Rice – This rice has milled grains that are at least three to four times as long as they are wide. Due to its starch composition, it is separate, light and fluffy when cooked.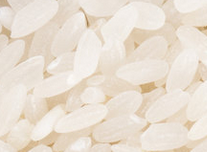 Medium Grain Rice – When compared to long grain rice, medium grain rice has a shorter, wider kernel. Since the cooked grains are more moist and tender than long grain rice, the rice has a greater tendency to stick together.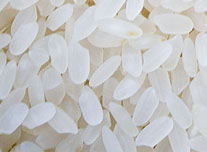 Short Grain Rice – Featuring grains that are less than twice as long as they are wide, this rice is short and best for sushi. It has a sticky texture when cooked.